INVITATION TO A PUBLIC LECTURE
DISCOURSE ON PUBLIC PERCEPTION ON BIOTECHNOLOGY:
ROLE OF BIOSAFETY REGULATIONS IN KENYA AND CONCERNS IN GMOs
PREAMBLE
The debate on agricultural biotechnology oscillates between two extreme views. On the one hand are the diehard proponents of biotechnology who are impatient to have the technology adopted at all costs and present it as the magic bullet and panacea to the multitude of problems in many countries. On the other hand, are the anti-biotechnology groups who front concerns for human health and environmental wholesomeness as reasons to stop the technology. The public as consumers and the policy makers are somewhat bewildered as the debate continues over their heads. The debate has international dimensions as the proponents are quick to point to the successes of the technology elsewhere while the opponents look to for example Europe and the crises that have been witnessed there which have undermined public confidence in the regulatory systems. This public lecture is intended to provide a deeper understanding of the GMOs concerns and Biosafety regulations in Kenya with a shared American experience in public perceptions.
SPEAKERS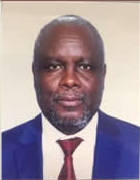 Prof. Dorington O. Ogoyi is the CEO of National Biosafety Authority. Prior to his appointment, Prof. Ogoyi was an Associate Professor at the Department of Biochemistry and Biotechnology and Director of Research and Development at the Technical University of Kenya (TUK). He also taught for several years at the Department of Biochemistry, University of Nairobi. 
Title: Biosafety Regulatory Framework in Kenya
Prof. Benjamin M. Onyango is a visiting Professor on Carnegie Fellowship in Machakos University.  He is Professor at the Department of Agribusiness, Agricultural Education and Agricultural Communication, College of Agriculture, Missouri State University, U.S.A. He is actively engaged in research in diverse areas of agricultural business including emerging food markets, Food security/safety and Agricultural risk-investment analysis. 
Title: Public Perceptions of Food Biotechnology