DAAD ALUMNI FAMILY DURING 1ST MACHAKOS UNIVERSITY INTERNATIONAL CONFERENCE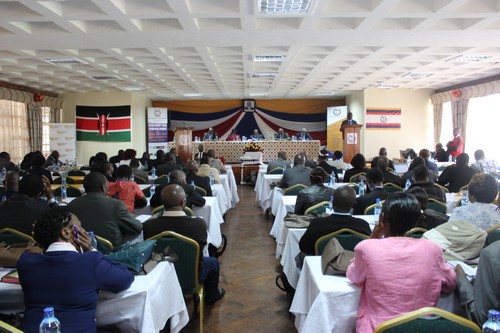 To promote research and provide a platform for knowledge sharing, Machakos University held  1st international conference from 17th to 19th April 2018 with the theme "Harnessing Scientific Research, Innovation, and Technology for Sustainable Development", and the following sub-themes:
Agriculture, Food Security, and Agribusiness for Community Transformation;

Transformative Development through Language, Culture and Communication Technology;

Innovative Approaches to Education and Training for Sustainable Development;

Business and Innovative Approaches for Small and Medium Enterprise Development and

Science, Technology, Engineering, Mathematics and Innovation for Industrial Transformation.
DAAD was one of the major sponsors of the conference, which attracted  200 delegates from 9 countries. With the sponsorship, the conference organizers were able to cater for the participation of two DAAD alumni in the positions of  key note and  guest speakers, besides catering for other 15 DAAD alumni who participated as delegates. In this way, DAAD presented an opportunity for 17 DAAD alumni to link up, share their experiences and establish new networks, as well as an opportunity for the launch of the KDSA Machakos University chapter.
The Vice Chancellor, Prof Lucy Irungu made her opening remarks, welcomed participants to the conference and urged them to establish networks towards possible future partnerships.
Prof. Ntiba (Permanent Secretary, State Department of University Education), below, represented the Chief Guest, Hon. Amb. Dr. Amina Mohammed, and in his remarks highlighted on the need for paradigm shift to product-oriented research; an avenue through which universities can offer practical solutions to societal challenges. He encouraged researchers to always ask themselves the question "so what", in order to identify what contribution, the research has made to the society.
Prof. Hamadi Boga (Permanent Secretary, State Department of Agricultural Research) in his key note speech emphasized on the importance of research and innovation as enablers of socio-economic development. He reiterated on the need for increased funding for research in order to meet local and global targets.
DAAD alumni, Prof. Hamadi Boga (PS, State Department of Agricultural Research) arrives for the Conference and is received by another DAAD alumni Prof. Peter Mwita (Deputy Vice Chancellor, Research, Innovation and Linkages, Machakos University)
Due to the negative impacts resulting from use of fossil fuels there is need for increased research in solar energy as an alternative source of energy. To address, Prof. Dejene (DAAD alumni) introduced the concept of thin film based solar energy as possible candidate for achieving drastic improvement in photovoltaic energy conversion efficiency. In the area of environmental remediation and water purification, antibody mimics, which provide high selectivity were presented as good candidates for selective removal of pollutants in water treatment, purification of drinking water and rapid detection of environmental pollutants for protection of human health.
Below are part of DAAD alumni from Kenya, Tanzania, and South Africa who made their oral presentation in  areas of climate change, green energy, and water purification technologies, among other areas. Prof. Chacha Nyaigotti-Chacha was our guest during the evening function.
Alongside the cocktail, which took place on the second day of the conference, DAAD alumni from Machakos University launched the Kenya DAAD Scholars (KDSA) Machakos University Chapter. Members agreed to work together to contribute towards actualization of vision 2030, Big Four Agenda, and also in giving back to the society.