ALL THE BEST MACHAKOS UNIVERSITY INNOVATORS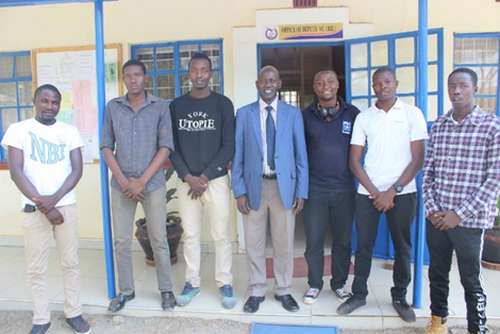 The two Machakos University student teams of innovators, The Kings Pyramid and E-voting System, who won during the Konza Smart Cities Challenge held on Wednesday 5th December 2018, have been offered a 4-day accelerator program at iBIZ from 23rd to 26th April 2019. The program is under the joint partnership between Konza Technopolis and Strathmore University meant to prepare the innovations for commercialization. During the program, students will pitch their innovations to a panel of potential funders and the Ministry of ICT for possible selection to participate in the Transform Africa Summit in Rwanda.
During the students visit to the Deputy Vice Chancellor (Research, innovation and Linkages) on Thursday 11th March, 2019, the Deputy Vice Chancellor on behalf of the Vice Chancellor wished them all the best in the program and their endeavours in providing solutions to humankind.
For related information, please see the link: https://www.mksu.ac.ke/event/machakos-university-wins-at-konza-smart-cities-challenge