PREAMBLE
Machakos University has an immense capacity for innovation from both its students and staff. This is evident through various innovation projects that haverecently been registered.The University runs programmes to create IP awareness among the university community. For example, recent IP sensitization workshop was delivered by theKenya Intellectual Property Institute ( KIPI)- http://mksu.ac.ke/Intellectual-Property-Rights-Seminar.The second quarter of 2018/19 FY is earmarked for a workshop on patent drafting and application for registration of the various forms of IPs that are generated within the University.
The University has developed Products and Services identification marks which will be diversely used by the University's Income Generating Units as footprint for all products and services that are created by the university and our collaborators.This Identity mark is informed by our institutional philosophy whose sum total is the creation of wealth.
FUNDING OF INNOVATION PROJECTS
Beginning 2017/2018 Financial year, Machakos University allocates funds to support innovation activities by students and members of staff within the University.
The purpose of this fund is to offer students and staff opportunities to actualize their innovative ideas and patent their innovations.
To be eligible, applicants must be full time student or member of staff at Machakos University.
The Call for proposals for 2018/19 financial year is expected to be out by the end of August 2018.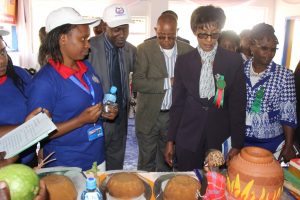 Some of the innovations from the school of Hospitality and Tourism. Displayed are various shapes of cakes that reflect African Culture and designs
ONGOING INNOVATION PROJECTS
The following is a list of somecurrent ongoingprojects,internally funded during 2017/18, that are at different levels of development towards the attainment of registerable status by the Kenya Industrial Property Institute (KIPI) as Intellectual Properties (IPs):
| | | |
| --- | --- | --- |
| S/No. | Innovation Project | IP Development Level |
| 1 | Nutritious Ice Cream | Prototype |
| 2 | Solar Thermal Concentrator | Proof of Concept |
| 3 | Green Maize Meal | Prototype |
| 4 | Mobile Biogas Digester | Prototype |
| 5 | Recycled Plastics Root Trainers | Proof of Concept |
| 6 | Green Laboratory Chemical Waste Management | Prototype |
| 7 | Hydrophobic Green Farming | Proof of Concept |
| 8 | Increment of Eggs Production through Technology | Proof of concept |
| 9 | Semi-Reusable Sanitary Towels | Prototype |
| 10 | Fortified Dry Millet Meal | Prototype |
| 11 | Sisal Fiber Wearable Technology | Prototype |
OTHER INNOVATIONS
Besides the current innovation activities, the University community has been undertaking other creations in different fields with a view to generating more items of trade through products and services.These activities have seen the university participate in local and international exhibition forums and winning recognition by different authorities and event organizers.
Below is the list of other projects that are being considered for further support and development:
 

S/No.

 

IP Creator

 

Innovation & Date

 

Level of Development

 

Field

 

IPR Type & Registration Status

1
Galm Halake
Tri-Security Intelligent System
Prototype
Electrical Eng. & Agriculture
Utility Model Protected

2

Maxwell Moya & Anne Njeri
Drawing
Skill
Open
Open
3
Ambrose Oyamo
Fairgram Social Media
Service
ICT
Copyright

Not Protected

4
Duncan Kimba
Book
Product
Linguistics
Copyright

Not Protected

5
Anthony Mugo/Ndolo
Dual Purpose Door
Prototype
Building Technology
Utility Model

Not Protected

6
Anthony Mugo/Anthony Ndolo
Sunction Hair Clipper
Prototype
Electrical Engineering
Utility Model Not Protected
7
Lawrence Matolo
Radio Phone Set
Prototype

ICT

Utility Model

Registered and Published

Annuity Pending

8
Geoffrey N. Musyoki (GNM)
Music Composition
Product
ICT & Linguistics
Copyright

Protected

9
Emmanuel Nyamai
Termite Fumigation
Prototype
Agriculture
Utility Model

Not Protected

10
Lawrence Matolo/School of Engineering
Sand Packaging
Prototype
Building Technology
Utility Model

Not Protected

11
Lawrence Matolo
Multipurpose Seed Based Absorber
Prototype
Agriculture, Health & Education
Patent

Registered and Published but

Protection Lapsed
 INNOVATION AND INVENTION PICTORIALS