Statistics Seminar and Workshop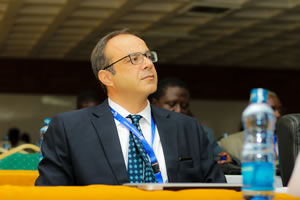 Research Events
June 5, 2019

08:00 AM to 07:00 PM
03:00 136 Machakos.
Speakers: Professor Lucy Irungu, Vc. Machakos University
Event Description
MACHAKOS UNIVERSITY SEMINAR ON STATISTICS
Under the theme: Leveraging Statistical Knowledge for National Research and Development, the University held a seminar on 26th June 2018. The objective was to get scholars to exchange ideas on the place of statistics and statisticians in the pursuance of development agenda through research and development. The seminar was officially opened by Mr. Zachary Mwangi, the Director General, Kenya National Bureau of Statistics, and also addressed by the Vice-Chancellor, Prof. Lucy Irungu and the Deputy Vice-Chancellor (Research, Innovation and Linkages) Prof. Peter Mwita. The key presenter was an international scholar and Bio-statistician, Prof. Kepher Makambi from Georgetown University, USA.
While officially opening the seminar, Mr. Zachary Mwangi who was the Chief Guest noted that statistics is an indispensable tool for national development, growth and planning and a government without viable infrastructure for information generation, dissemination and usage is severely handicapped in doing proper planning, monitoring and evaluation of development programmes and projects and also in arriving at good decisions with respect to their government policy formation.
"Governments, private companies, NGOs and private individuals alike have to decide on important issues on a regular basis; such decision making requires information and frequently needs to be transparent and evidence-based in order to be accepted by the wider community. No argument is evidence-based without figures to back it up. These figures must be collected, analyzed and presented using non-partisan, reliable and repeatable approaches and this is the task of statisticians." Mr. Mwangi told participants. He informed participants that preparation for 2019 population and housing census is in top gear and enumeration will be paperless.
In her remarks, the Vice-Chancellor, Prof. Lucy Irungu mentioned that Statistics has been underscored as a key development tool. For this reason, the subsidiary body of the United Nations Economic Commission for Africa, the Joint African Conference of Planners, Statisticians, and Demographers initiated "The African Statistics Day" in 1990 which is celebrated every year on the 18th day of November in order to increase awareness about the important role statistics plays in all aspects of social and economic development in Africa. Machakos University having research as one of its core mandates, statistics is a lifeblood engine. She further said that as scholars, researchers and as university there is need to note that methods and tools to analyze and gather data are constantly evolving, making more and more information available for use in real time. Innovation is pushing every sector of the economy and society. Methodologies for data linkage, integration and anonymization are quickly evolving, as are machine learning techniques and concrete applications of artificial intelligence.
"All these require data, and data provision is the anchorage of statistics, hence the need to leverage this knowledge. This means that whether you are writing your thesis for examination to earn a degree like our postgraduate students present here today, or doing applied or basic research as most of us do, you need to be abreast of trends in research, data and statistical evolutions and revolutions… Make no mistake about it." Prof. Irungu cautioned participants.
In his welcoming remarks, Prof. Peter Mwita told participants that Africa's dearth of statistical knowledge and capacity building has been a challenge and has, therefore, become a priority for African Universities, Machakos University being among them.  This seminar was therefore organized for the purposes of academic interactions, academic elevation and enrichment as well as social networking.
" This seminar is also to enable some of our colleagues; even students who do not have time to read a number of books in statistics to spend a reasonably short period of time and get substantial information." Prof. Mwita remarked.
Prof. Mwita quoted the famous scholar, Steven Pinker:
"Cognitive psychology tells us that the unaided human mind is vulnerable to many fallacies and illusions because of its reliance on its memory for vivid anecdotes rather than systematic statistics."
The Key presenter Prof. Kepher Makambi pointed out that whereas there is a general consensus on the need for statistics in research, the need for statisticians is not clear cut, and is sometimes debatable.
"We review the role of statisticians in terms of potential contribution to collaborative interdisciplinary research, with special attention to the evolution of this role in light of the fast changes in computational and statistical methodology, funding agencies' requirements, and the advent of BIG DATA. Such developments plus new and emerging technologies have made research topics increasingly complex that large interdisciplinary research projects are now commonly established to foster cross-disciplinary cooperation and to utilize potential synergies, with statisticians playing a central role." Prof. Makambi argued.
Built Process